1 PL8 OR 2?
State-By-State Guide to License Plate Requirements Newly Updated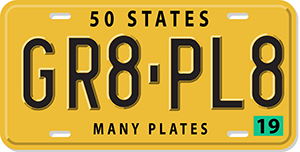 Bolting a license plate onto one's prized vehicle is a necessary task that can be unpleasant. Thankfully, available options have made contending with the visual identifier increasingly less painful, yet legal. Governments have recognized the public's desire for choices and have attempted to adapt their rules over time. In fact, each state offers an alternative plate that varies from the standard issue. Personalized versions continue to be more and more common. Given the choice, the car and truck community would prefer to run only a single, rear-mounted plate. These proposals are overwhelmingly favored by enthusiasts when considered. Such laws save states money, conserve resources and protect the aesthetic contours of collector vehicles.
After tracking and influencing license plate legislation nationwide, the SEMA Action Network (SAN) fulfilled the need for a comprehensive resource. The SAN has made it easy to look up each state's requirements online. Designed as a quick reference guide, the compilation includes specialty plates available in a given state. A map at the top of the page illustrates the number of plates required in each. The webpage has been fully updated for 2019 and is posted live. Those looking to purchase or apply for a specialty plate are advised to check with their local DMV for guidance and paperwork. Details can be found at www.semaSAN.com/licenseplates.
While many single-plate bills are not given serious consideration, their introduction is a great sign and significant first step. At the time of publication, Connecticut, Illinois, Iowa, Nebraska, New Hampshire and Texas each introduced such legislation for all motor vehicles during the 2019 legislative sessions. Other jurisdictions are likely to propose their own measures before the current year ends. Illinois, Maryland and Wisconsin all made attempts in 2018, while Iowa looked to expand usage for certain vehicles. Surprisingly, New Mexico is once again pursuing legislation to reverse their current single-plate requirement in favor of two—on the heels of a similar proposal's defeat last year.
It's true that while individual support for single-plate bills is important, and mass organization by enthusiasts is vital. Otherwise, bills of this nature rarely have a chance of becoming law. Unfortunately, law-enforcement agencies generally oppose such measures on the claim that front plates allow officers to quickly identify vehicles involved in violations of the law. There is hope in working together with local law-enforcement officials, attending hearings and sharing the responsibility in finding mutual solutions. We have the opportunity to impact the future of these laws, so please spread the word! Encourage those you know to become informed and ready when a critical moment arises; have them enlist now at www.semaSAN.com. Everyone can help the cause and get involved without cost or commitment.