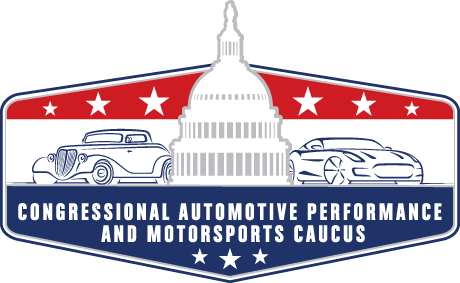 The Congressional Automotive Performance and Motorsports Caucus was formed in 1996 in honor of the 100th year of the car and to recognize the contributions the automotive performance and motorsports industry has made to the U.S. economy.  This honorary Congressional Caucus pays tribute to the quality, performance and safety of all motor vehicles and to America's ever growing love affair with the car and motorsports.
The American automotive specialty and performance industry is an important economic engine, with consumer sales of motor vehicle performance and appearance enhancement equipment annually over $45 billion, while providing jobs for a million Americans.  Growing exports of these U.S. products have been welcomed by consumers worldwide and have helped the U.S. balance of trade.  The motorsports industry has also grown tremendously over the years to where today hundreds of thousands of amateur and professional participants enjoy motorsports competitions each year throughout the United States, attracting attendance in excess of 18 million people.  Motorsports events rank among the most widely attended of all U.S. sports.
Another aspect of our nation's heritage which has played an integral role in fostering America's love for motorsports in general and the automobile in particular is the collector car.  From pre-War classics to street rods to '60s muscle cars, these vehicles, so carefully crafted and preserved, not only stand as testimony to American ingenuity and craftsmanship, they also serve as a resource for contemporary automobile design and as a source of recreation for tens of thousands of enthusiast and collectors throughout the U.S. who attend events dedicated to these vehicles.
Just by the nature of its existence, the Caucus is already raising the industry's profile on Capitol Hill and in the eyes of the public.  The Caucus does not seek to reach a consensus on legislative issues.
Congressional Automotive Performance and Motorsports Caucus
SENATORS
Marsha Blackburn (R-TN)
John Boozman (R-AR)
Richard Burr (R-NC), Co-Chair
Mike Braun (R-IN)
Michael Crapo (R-ID)
Joe Manchin (D-WV)
Roger Marshall (R-KS)
Shelley Moore Capito (R-WV)
Jerry Moran (R-KS)
Gary Peters (D-MI)
Debbie Stabenow (D-MI)
Jon Tester (D-MT), Co-Chair
Todd Young (R-IN)
HOUSE MEMBERS
Robert Aderholt (R-AL)
James Baird (R-IN)
Troy Balderson (R-OH)
Andy Barr (R-KY)
Don Beyer (D-VA)
Gus Bilirakis (R-FL)
Sanford Bishop (D-GA), Co-Chair
Mike Bost (R-IL)
Kevin Brady (R-TX)
Mo Brooks (R-AL)
Ted Budd (R-NC)
Michael Burgess (R-TX)
Ken Calvert (R-CA)
André Carson (D-IN)
Buddy Carter (R-GA)
Steve Cohen (D-TN)
Jim Cooper (D-TN)
Rick Crawford (R-AR)
Henry Cuellar (D- TX)
Suzan DelBene (D-WA)
Mike Doyle (D-PA)
Paul Gosar (R-AZ)
Josh Gottheimer (D-NJ)
Glenn Grothman (R-WI)
Bill Huizenga (R-MI)
Darrell Issa (R-CA)
Dave Joyce (R-OH)
Marcy Kaptur (D-OH)
Mike Kelly (R-PA)
Trent Kelly (R-MS)
Doug LaMalfa (R-CA)
Bob Latta (R-OH)
Brenda Lawrence (D-MI)
Ted Lieu (D-CA)
Patrick McHenry (R-NC)
John Moolenaar (R-MI)
Alex Mooney (R-WV)
Grace Napolitano (D-CA)
Bill Posey (R-FL), Co-Chair
David Rouzer (R-NC)
Linda Sanchez (D-CA)
Adam Schiff (D-CA)
Pete Sessions (R-TX)
Kurt Schrader (D-OR)
Brad Sherman (D-CA)
Adam Smith (D-WA)
Steve Stivers (R-OH)
Mark Takano (D-CA)
Michael Turner (R-OH)
Fred Upton (R- MI)
David Valadao (R-CA)
Juan Vargas (D-CA)
Jackie Walorski (R-IN)
Mike Waltz (R-FL)
Joe Wilson (R-SC)